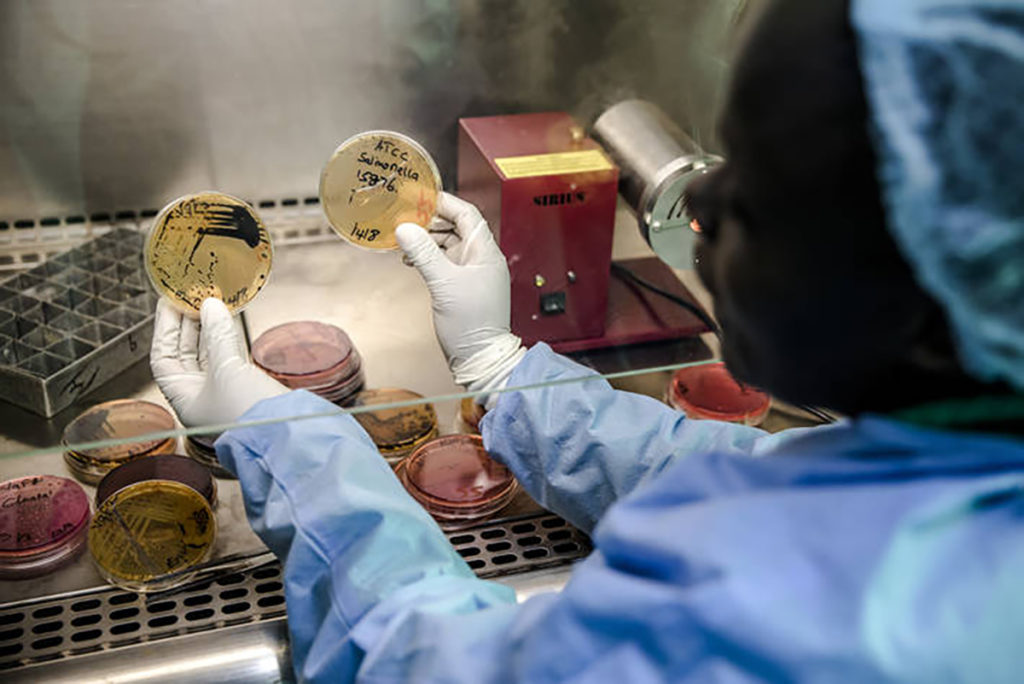 Source: FAO.org. A member of the AMR Surveillance Pilot Study among chicken layering farmers within Kiambu County analyzes samples in a laboratory in Nairobi, Kenya.
Welcome to Antimicrobial Resistance (AMR) in One Health Course
This dynamic training course spans 11 online modules and provides two levels of contents: a basic introduction to the principles, causes and applications of AMR in the One Health sectors, and a comprehensive level which includes contents on surveillance systems, AMR assessment, laboratory diagnosis and AMR countermeasures such as infection prevention and control (IPC) and antimicrobial stewardship (AMS).
Each module is comprised of an introduction, specific topics related to the subject matter, and a quiz to assess learner competency. Integrative case-studies span the entire breadth of the course and include key concepts learned in the didactic sections to help solidify and illustrate the key learning objectives.
We expect that each module will require between one and two hours to complete. Additional supplemental readings provided in the "One Health Resource Library" could extend this time depending on the participant's level of interest and personal desire to learn more of the course content.
There is no time limit for this course and trainees may work through the modules at their own pace.  When you are ready, please proceed to the Course Introduction page where you will read more about the course content.
Course is in development
You can review the course structure below. Be sure to
register as a Trainee
to be notified when this course is ready.
Get Started
This training material is currently closed
Training Material Content